Ethereum Drops 9% Against Bitcoin: Are Altcoins Suffering?
2023 has been characterized by green candles and bullish sentiment till now. However, the state is started changing. The market has been in its consolidation phase and chart movements are nothing but sideways. In the last 24 hours, the total value of all the assets from the cryptocurrency market merely noted a 0.5% upward deviation.
Ethereum's price against Bitcoin has been on the fall over the past few days. When compared to its mid-January highs, it is already down by 9.1%. As illustrated below, it is on the verge of nullifying the gains registered in the mid-December to mid-January period.
The fall in Ethereum's price against Bitcoin essentially points out that the former is not in the driver's seat. So does this mean that Ethereum will not get to call the shots for a while? Well, looks so.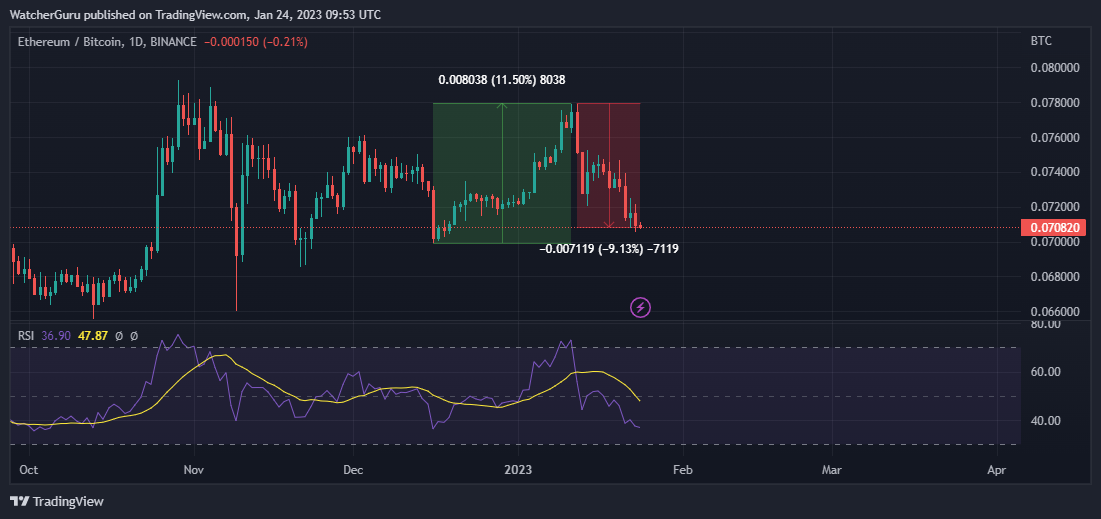 Should investors fret?
Whenever such situations have transpired in the recent past, a trend reversal has eventually materialized. In the last four instances when the RSI of the BTC/ETH pair has dropped below its MA, 8%-62% bounce-backs post consolidation have been registered.
In almost all cases, the consolidation period has lasted for more than a couple of weeks. So, even though a reversal is on the cards, it may not materialize immediately.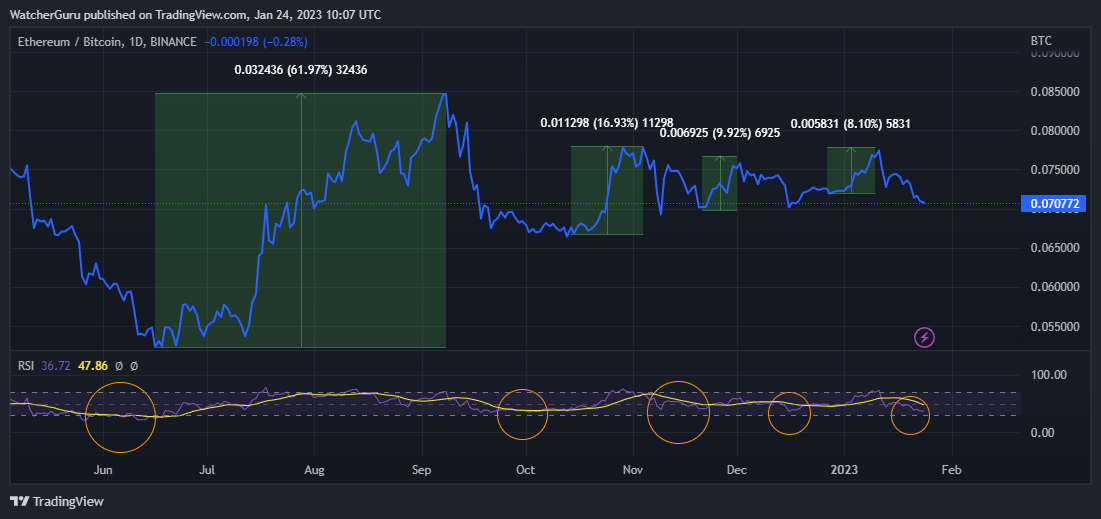 For now, Ethereum has started losing its foothold on the dominance front, while Bitcoin has continually been able to make strides. As shown below, the former's dominance has remained relatively flat and has mostly been hovering around the 19% mark since the beginning of this year.
Bitcoin's dominance, on the other hand, dropped during the initial few days, but then managed to rise from 41% to 44%.
So, is this a red flag for Altcoins?
According to the season index reading, the market is more inclined toward the Bitcoin season than the Altcoin season. Altcoins generally tend to follow the path of Ethereum and per the thumb rule, if 75% of the top 50 Alts outperform Bitcoin in a period of 90 days, it is considered to be an Altcoin season.
The market, at the moment, is in a wobbly state. Like shown below, not even half of the top 50 coins have registered gains over the past quarter. So, only when Ethereum's dominance refines will the waiting period come to an end.